Join us for cocktails, live entertainment and delicious food this Memorial Day Weekend. Enjoy the view of the marina and try the chef's BBQ specials paired with a cold draft. Dine and drink with old and new friends!

Chef's BBQ Specials
$5 drafts offered
Daily Happy Hour 3:00pm-7:00pm

Live entertainment @ BALEENkitchen
Friday & Saturday – 9:00pm
Sunday – 2:30pm-5:30pm

Live Entertainment @ The Living Room Bar
Friday & Saturday – 6:00pm-9pm

Starting this Sunday, playfully put away May and the many months to come with BALEENkitchen as they turn the last Sunday of every month into a Funday complete with epicurean delights like Mimosas, Sangria, Build Your Own Bloody Mary bar, an A La Carte Brunch, live music and more.

To find out what else is happening Memorial Day Weekend and the coming summer months, visit their website.


BALEENkitchen
260 portofino way
Redondo Beach, CA 90277
3107985875
http://www.hotelportofino.com/redondo-beach-baleen-restaurant.aspx - See more at: http://www.southbayevents.com/events/special_event_details.asp?event_id=66703#sthash.NVom3hvJ.dpuf
Third Annual El Camino College Jazz Festival: Saturday, April 9, 2016 - 2:00 PM

The Third Annual El Camino College Jazz Festival is set for April 9, featuring vocal and instrumental performances, jam sessions, clinics, and an evening gala concert dedicated to jazz. A celebration of all things jazz, the day is dedicated to the late ECC jazz professor Christopher Mello and gives high school and college students, along with faculty and professional musicians, an opportunity come together to connect and share jazz music. This year, Grammy Award-winning saxophonist Bob Mintzer will be the featured artist and master class instructor Mitch Glickman, jazz curator at LACMA and music director of the Symphonic Jazz Orchestra, will serve as a featured adjudicator and award-winning musician, composer and producer Tony Guerrero will perform with the ECC faculty ensemble for an evening gala.

Daytime events are free and open to the public the evening gala is a ticketed concert that costs $15 for adults, $10 for ECC and ECC Compton Center students, and $7.50 for high school students and younger.

Tickets for Third Annual El Camino College Jazz Festival evening gala are $15 for adults, $10 for ECC and ECC Compton Center students, and $7.50 for high school students (and younger), and may be purchased online at centerforthearts.org, by phone at 310-329-5345 or toll-free at 800-832-ARTS. Students must present school ID. The Ticket Office is open Monday through Friday 10 a.m.-6 p.m. Campus Parking is $3. The El Camino College Marsee Auditorium is located at 16007 Crenshaw Boulevard, Torrance. - See more at: http://www.southbayevents.com/events/special_event_details.asp?event_id=66500#sthash.AOs54c5N.dpuf
Universe Multicultural Film Festival: Friday, April 1, 2016 - Sunday, April 3, 2016 - 11AM-7PM
Presented By: Universe Multicultural FilmFestival

April 1-3 of 2016 as the Universe Multicultural Film Festival plays host to a fabulous array of movies and movie stars. The Festival will feature a stellar line-up of films from all over the world, cultural Fashion Competition event, filmmaker tributes, industry seminars, film market and Red Carpet Fashion show and gala receptions. It is a very special multicultural fun event which live-broadcasting to the worldwide.
42nd Annual Festival of the Kite: Sunday, March 13, 2016
Noon - 5:00 PM
Presented By: Redondo Beach Pier Association
42nd Annual Festival of The Kite Presented by The Redondo Pier Assoc. & Sunshine Kite Co.: Sunday, March 13, 2016 - 12:00 pm - 5:00 pm
Redondo Pier's annual kite festival is one of L.A.'s longest-running kite festivals in the country. This all-ages free event is open to the public and prizes are awarded for the best hand-made kite, best ground display, highest-flying kite, and the youngest and youngest at heart kite flyers. The public is invited to help launch a massive 25' by 14' foot kite.
The winner of the 10th Annual Hot Dog on a Stick Eating Contest takes home a cash prize. Other highlights include a martial arts demonstration, dance performance and live music featuring 1969 classic rock band throughout the day. The festival will culminate with a mass group kite ascension flight on the beach immediately South of the pier.
Sunday, March 13, 2016
12:00 – 5:00 pm
Redondo Beach Pier
100 Fisherman's Wharf, Redondo Beach, CA 90277 - See more at: http://www.southbayevents.com/events/special_event_details.asp?event_id=56359#sthash.Y4jWKM8G.dpuf
Today's TOP Specials - Thursday, January 21st
Happy Hour @ Waterman's

Karaoke Thursdays @ F.F.F. Fish Shack


Happy hour 5-7 @ Hudson House
Disney's Frozen Sing-a-Long at Warner Grand Theatre : Saturday, January 23, 2016 - 1:30 PM
Presented By: Grand Vision Foundation
Sing along to our favorite winter themes at the Warner Grand Theatre. Before the show, we have plenty of activities including a meet and greet with Elsa, arts and crafts, a costume parade and more!
1:30 pm Activities including Meet & Greet with Elsa + Arts & Crafts!
3:00 pm Film
This Oscar-winning movie sets us off on a journey, learning about the importance of friendship and family. Fiery, young Anna teams up with rugged mountain man Kristoff, his loyal reindeer Sven, and the lovable snowman Olaf on a quest to track down her sister Elsa, who's trapped the kingdom in an eternal winter.
Tickets are:
$25 for the VIP Section + Entry into the Frozen Raffle
$15 for Adults
$10 for Children ages 3-13, 2 and under are free.
Group Sales: For groups of 8 or more, we have a group price of $9/per ticket for General Seating. Please call Grand Vision for to make a group purchase. 310.833.4813
All Tickets will be held at Will-Call - See more at: http://www.southbayevents.com/events/special_event_details.asp?event_id=56252#sthash.sQJsba6I.dpuf
Elvis Birthday Bash at The Standing Room:
Friday, January 8, 2016 - 8.30PM - Close
Presented By: The Standing Room

Come celebrate the Kings 80th Birthday with California's ONLY 12 piece Elvis Tribute, GRACEBAND 8:30 PM at The Standing Room in Hermosa Beach

Graceband is an explosion of fun, high-energy, rock n roll. Channeling the best of "The King's" Vegas years, you'll hear the big hits with big arrangements. You know the songs, but you haven't heard them done like this. C.C. Rider, Heartbreak Hotel & Suspicious minds? Sure we got that. How about a little Zeppelin and AC/DC? Well, we've got that too. Graceband is the most authentic sounding tribute you will find, complete with a full horn section, backup singers and a world class stage show of lights, lasers, karate, and for a few lucky ladies, a silk scarf.

Graceband was founded in Redondo Beach, California in 1996. Like most bands, they started modestly as a regular four piece set up, playing backyards and bowling allies. Almost 20 years later, they are now a 12 piece touring band featuring The Horns o' Plenty and accompanied by the GraceNotes. Simply put, they are the Hardest Working Band in Showbiz, with their big sound and spectacular show bringing down the house everywhere they play. Founding members Chris & Ryan will tell you, "We do more than impersonate, we celebrate."


The Standing Room
1320 Hermosa Ave
Hermosa Beach, CA 90254
(310) 318-1272
Title:
GI Joe Pier to Pier Walk/Run
Date:

Saturday, March 5, 2011

Time:
7 a.m.
Calendar:
City of Hermosa Beach
Contact:
JC

Complete Description:
Walk or run from Hermosa Beach Pier to the Manhattan Beach Pier and back (approximately four miles) in the sand. Participants will receive a Pier to Pier Run t-shirt, goodie bag and prizes including a chance to win a free 10 week Boot Camp session. Tell your family, friends and loved ones that GI Joe has activities for you! Don't miss out! In memory of Charlie Saikley.
For more information, please email jc@mbbootcamp.com
South Bay Surf Series Contest #2 : Saturday, February 19, 2011 - 7am-6pm
Presented By: Body Glove
The South Bay Boardriders Club Presents:
The South Bay Surf Series Contest #2
Sponsored by: Dive N' Surf
< & Concepts Surf Surf, Pier ET Spy, Electric, Volcom, 9, Sector AST, Gringo, El Glove,>

Contest Starts @ 7am in El Porto

Sign up at Dive N' Surf or www.southbayboardriders.com

Enter early at Dive N' Surf or online it's cheaper than the beach entry!! <

Come Support South Bay Surf Culture/Heritage and our local Shops, Groms, Surfers & Families....See you at the beach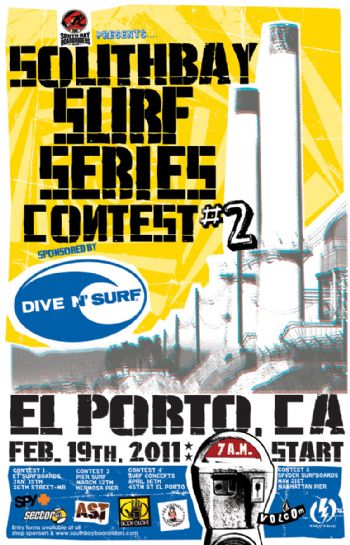 The Odd Couple

Date:
1/28/2011 TO 2/13/2011
Time:
8:00 PM
Location:
27570 Norris Center Drive
Rolling Hills Estates, CA 90275
Event Location Map
Event Description:
One of the most famous stage comedies in American history, Neil Simon's "The Odd Couple," comes to the Norris Center for the Performing Arts, Jan. 28 – Feb. 13. The hit comedy about mismatched roommates premiered on Broadway over 40 years ago, became an instant success, and won the 1965 Tony Award for Best Play. Performance dates for "The Odd Couple" are January 28-30, February 4-6 and 11-13, with 8 p.m. shows on Fridays and Saturdays and 2 p.m. Sunday matinees. Tickets are $38
Norris Theatre 27570 Norris Center Drive (formerly Crossfield), Rolling Hills Estates, CA 90274

Halloween Safety for Kids & Teens

Kids love Halloween! They get to dress up and get free candy! What a perfect holiday! Give your kids some precious Halloween memories that they'll have for life.
Some of you kids already know things that you can do to be safe, like how to cross the street, not to talk to or go with strangers and things like that. But we adults know how exciting Halloween can be and that can make you forget to be careful.
Here's some tips that we have just for you kids, to help keep you safe on Halloween night! Some of these ideas are called "common sense" ideas, that means that they are things that you should know and use every day in life. You are never too young to learn!
| | |
| --- | --- |
| | Never, ever go into a strangers house or even ring their door for treats unless your parents are with you and say that it's okay. There are some people in life that aren't very nice to kids and you have to be careful. Always make sure that your mom or dad is within sight when you go out trick-or-treating. |
| | Be careful when you cross a street. Make sure to look in both directions and make sure that there are no cars coming. If you have a little brother or sister with you, take their hand and help them get across the street, too. If the street has a stop light, wait until the cross walk light tells you that it's okay to cross now, but still check before you cross, look both ways. |
| | If you are an older kid or young teen, and going out with friends, make sure that your parents know where you are going and who you are going with. This may seem like a pain but they are your parents and they love you. They just want you to be safe. |
| | If you can drive and are taking a bunch of friends to a party, make sure that you have enough gas to get there. You don't want to run out on a dark street, all alone, like a bad horror movie! |
| | If you parents give you a curfew, be home when they say. It builds trust between you and them and they are doing it for your own safety. If you are going to be late, call them and let them know. |
| | Vandalism is never cool! Throwing eggs at cars and houses is not cool. Someone has to clean it up and it could be you, if you get caught. You can also be arrested and punished as a juvenile. So, don't think that it's fun only if you can get away with it. It's never the right thing to do! Think about how you would feel if someone did that to your house and how bad it would make you feel. |
| | Hurting animals is never acceptable behavior! Some people use Halloween as an excuse to hurt cats and that is just wrong! Not only is it illegal in most places to hurt or torture animals and punishable by law, you should never hurt a helpless living thing. |
Have fun on Halloween but keep it safe, have some good, clean fun and your parents will trust you for many Halloweens to come! Showing them how responsible you can be will give you a feeling of pride and make them see just how adult you really are